Jacob is convinced he's set the record for birthday parties. After the very exciting Chuck E. Cheese fake birthday which he had anticipated for weeks, Jacob had a surprise fake birthday party yesterday when we went to visit Mark's parents. Dana and Papa had gifts for him, and the kids enjoyed a festive party out on the patio under the beautiful blue sky. All four of them greedily dug into the cupcake cake and other goodies Dana set before them.
This morning the boys woke up to streamers criss crossing their room, a banner strung across one wall, and 5 balloons taped randomly here and there. Last night after they fell asleep, I snuck in to do the redecorating, and hopefully in the process, we started a new tradition.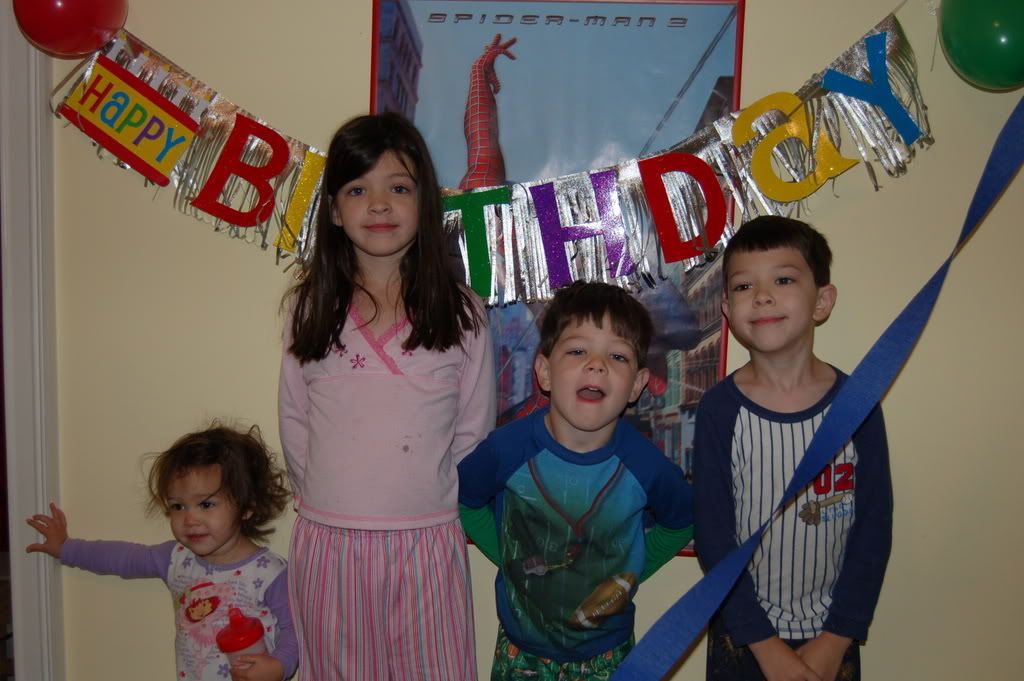 Jacob headed downstairs to a pile of presents and a musical card, which he thought was way Kool (it featured a Kool and the Gang song, so I couldn't help myself). After tearing into those presents, we sent him on a treasure hunt for the final present, which was a coveted Spider-Man/Sandman playset. It was difficult to pull the kids away from the gifts for breakfast, but Jacob had more candles to blow out…this time atop a birthday coffee cake.
After church, Jacob chose Macaroni Grill for lunch where he hoped to be serenaded by one of the restaurant's signature singers, but none of them were in, so he settled quite amiably with a very large piece of chocolate cake drizzled with chocolate fudge icing. He had another candle to blow out (he did point out that he is 5, not 1 as the lone candle would indicate) and shared the cake with a smile on his face.
I suppose you could count Macaroni Grill as sort of a second REAL birthday party bringing the total count to Fake Birthdays: 2, Real Birthdays: 1 ½. Maybe he did set a record!