We are smack dab in the middle of a very busy weekend. I'm in between cake fillings (making them, that is), and my hard-working husband is out cleaning up the backyard--"vacuuming" the patio to get rid of all of these mid-summer leaves that have fallen from thirsty trees; weeding the sandbox in which, if we had had the commonsensical forethought to line it with that black anti-weed liner stuff, we wouldn't be cultivating all kinds of vegetation in the kids' play area.
Mark has earned his keep the last couple of days. Today our church held their annual 5K run. It takes a lot of volunteers to make it run smoothly, however. Mark worked all day yesterday helping set up and then was there by 5:30 this morning. Countless others sacrificed even more hours to make it work, and I think everyone had a good time. I arrived with the kids around 7:30 (after suffering the wrath of the Princess who did NOT want to be dragged out of bed!). Following the grown-up race was a "Fun Run" for the kids: one lap around the parking lot. The young racers each got a t-shirt and a number. Missing was one shy young racer named Jacob. After the race, the kids enjoyed inflatables and a jumpy trampoline thing.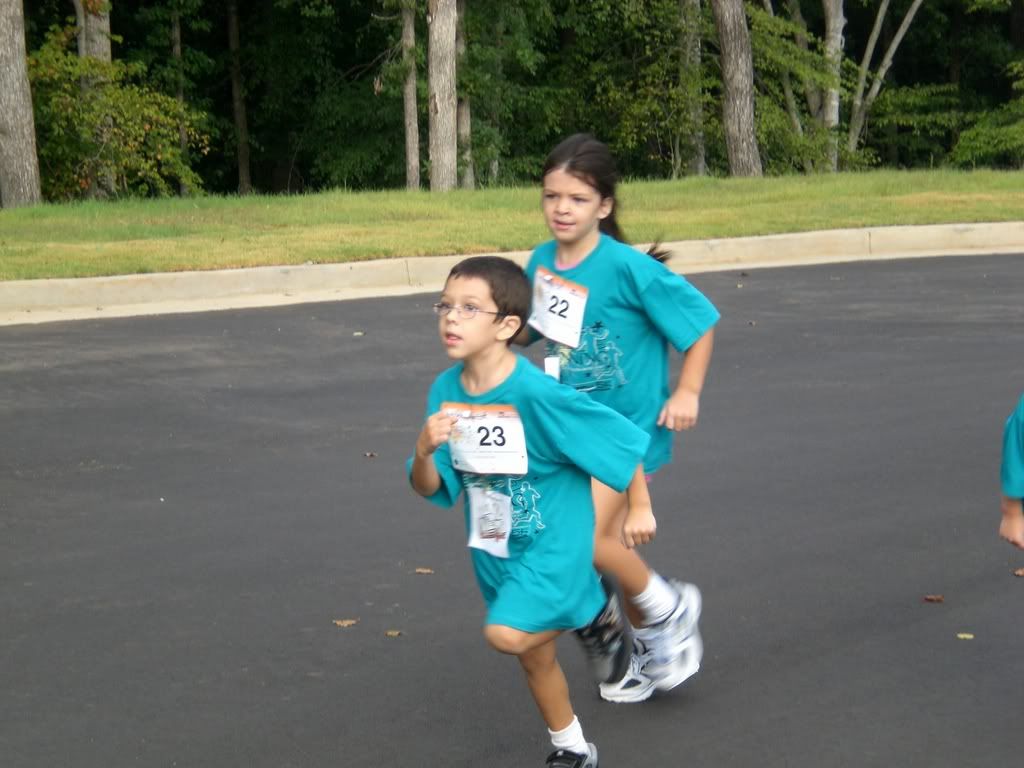 Since we returned home, Mark and I have been working to get things ready for tomorrow evening when we will host our Small Group for a social. Mark has already made up multiple pans of lasagna (I think each pan is a different kind--is he amazing or what?!), and I'm working on dessert. We'll be just 4 families but 16 kids. Yes, we're a fertile bunch!
In the midst of our preparations for tomorrow, we will sneak out for dinner to meet some friends whom we have not seen in some time. It's always fun to catch up with old friends, and this family is adding a new member in October, so that makes it extra special.
And then of course Monday it's back to school! You may think since I haven't posted any academia lately that my motivation and steam has petered out; however, we have kept things going despite some interruptions with chiropractors and such! Friday actually could have been a more productive day if I hadn't tarried with an art project. I brought out the watercolor paints, and it has been years since I have "played" with watercolors. The kids were done with their project in 5 or 10 minutes, but an hour later there I was still painting. Consequently, some of academia was missed on Friday! Obviously, my fault!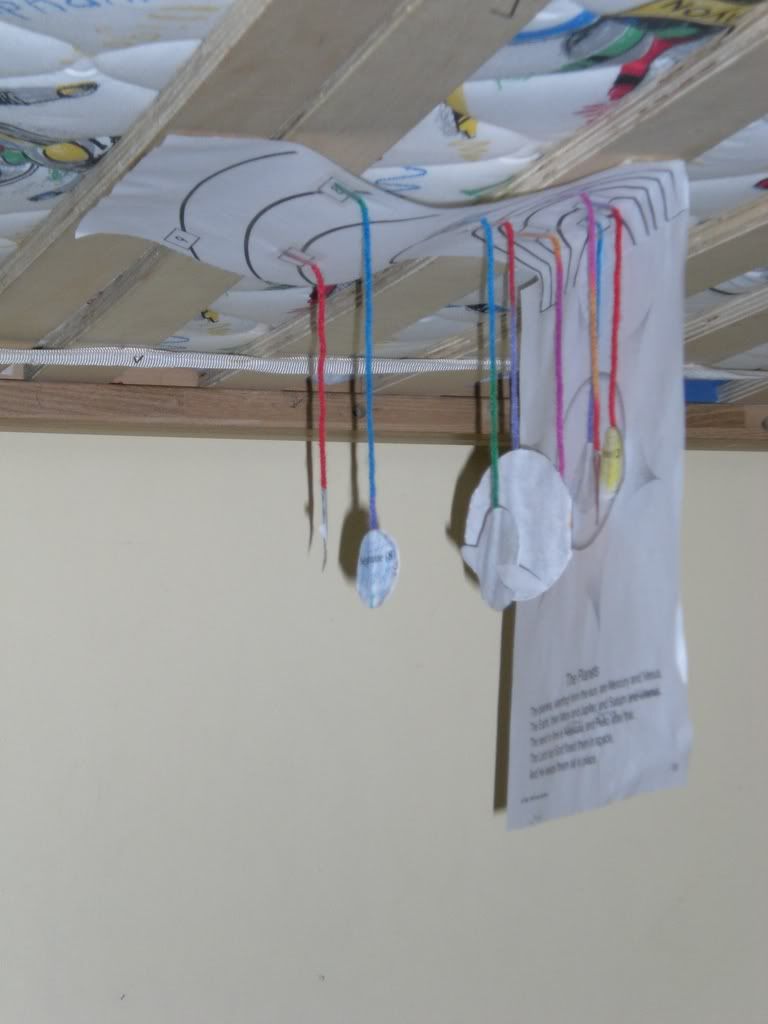 The kids did get a science project finished, however. We are studying the planets, and they made a notebook page that has the planets hanging in order from the page. The boys have taped theirs to their bunk bed, one from the ceiling and one from the bottom of the top bunk. Do you remember using mneumonics in school to remember things? I can't remember the one we learned for the planets (which would now be minus a p for Pluto and the U and the N would need to be transposed, so it probably wouldn't make sense anyway), so we made up a new one: My Very Energetic Mom Jumped Ship Under Neptune. Am I allowed to keep the word Neptune in there since Neptune is the actual answer? The other N I came up with was Nicaragua, and I thought Neptune was a bit easier to remember!
I would say that is our week in a nutshell, but since I have rambled on and on, I really didn't give a short version at all. But all the same, that is the news from our side of the world!