The birthday celebration was late. Not the sleepover. Surprisingly, the girls were asleep by about 10:00, so not late at all by silly girl sleepover standards. If you'll recall, my now 8-year-old baby (!) spent 12 hours of her real birthday in the car with a barfy 2-year-old baby. Not a fun way to spend your birthday. So last night was the big make-up party (there actually was, surprisingly for me, no theme though make-up would have been fun for the girls).
There were, in fact, not as many Mommy plans involved in this party as usual. Alex, however, was into the planning. A week or so ago, she presented me with this:
Birthday Plan



6:00-6:30 Dinner

7:00-8:00 movie

8:30-9:00 free time

9:00-9:45 stories

9:45-7:00 sleep

7:00-7:45 Pillow fight

7:45-7:55 Breakfust

7:55-10:00 Party!!!
Notice the 45-minute long pillow fight and then the 10 minutes to wolf down "breakfust." Things didn't exactly turn out as she planned, but the girls had a good time anyway. "The girls" were three of Alex's homeschool girlfriends. Her friend Grace actually left with us from church, and our boys left with Grace's family. Clearly not a fair exchange and so when my friend said "Good luck" to me I wondered. She's the one who needed the good luck, but that's really another story. Anyway, by 5:30 all the girls were here. After playing for awhile, the girls had their dinner. Then it was cake decorating time. If you know me, you know that I'm usually the one to do the cakes. Last year, however, I ran out of time and had the girls decorate their own Barbie doll cake. I guess the activity was enjoyable enough to become tradition because Alex requested a plain cake for her and her guests to decorate. (More precisely, she requested an ice cream cake to decorate--can you imagine how that would turn out!)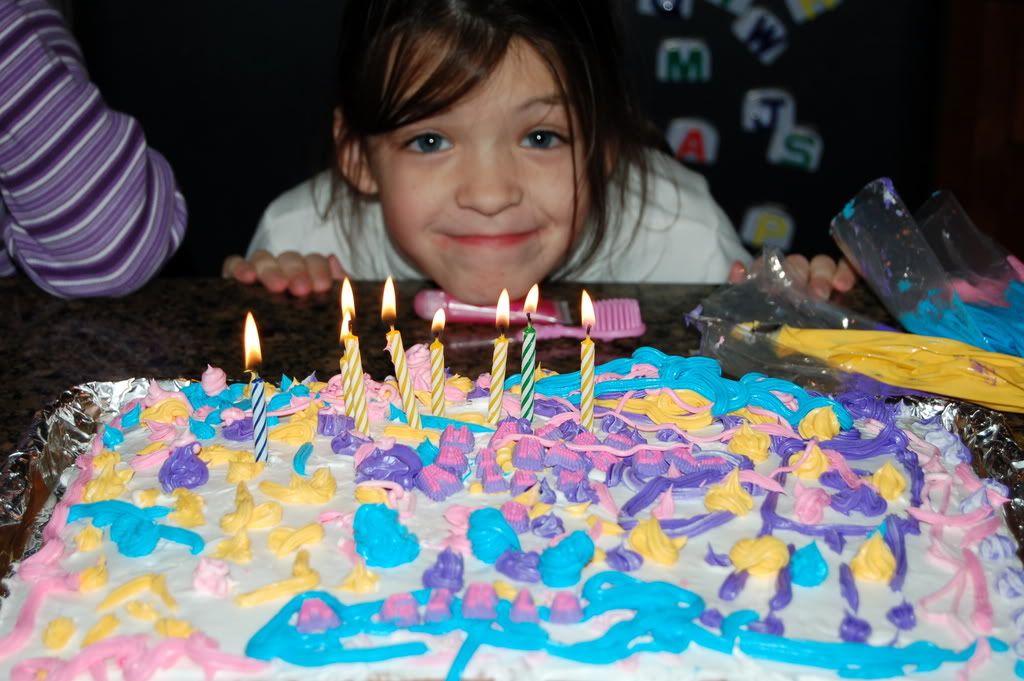 After cake decorating and cake eating, there were presents and goody bags. Then a good-natured fight over which movie to watch. Then a good-natured fight over who would sleep where (we had to draw names to solve this one). And then, to my surprise, they were all asleep by 10:00. Must be my mothering skills; when I lay down the law, everyone listens. Right.
The one thing that did go right as Alex planned was the 7:00 wake-up time. After homemade waffles, it was almost time for one of the girls to leave. After all but one had left, it was suddenly noticed that no pillow fight had taken place. Pillows were quickly drawn, but with little interest, the fight never really came to fruition. Maybe a call for a pillow-fighting tournament is in order...
What happens when you ask 4 little girls, "Which piece would you like?"