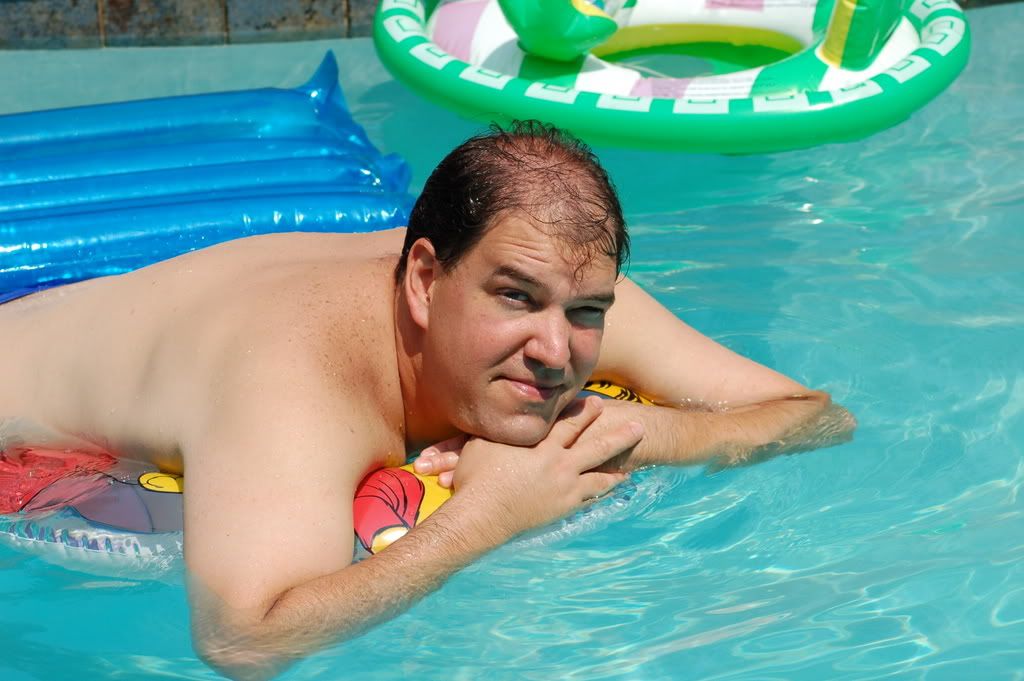 What a great day it was! A day to honor an amazing husband, the father of 4 wonderful kids! A perfect family day. We attended the early service at church and enjoyed the Pastor's fun extras for the men in the congregation (including a basketball shoot-out for coveted spots in the "Man Zone" seats up front). After church we enjoyed some Chinese cuisine (Mark's favorite) and then returned home.
The pool is all finished now, and we have our little outdoor paradise all set up. The landscapers finished yesterday, so our backyard is entirely sodded now. The weather was perfect for the pool this afternoon, and we simply enjoyed hanging out together. The three older ones, I think, will be swimming on their own in a week or two. Alex and Michael actually were swimming underwater in the shallow end this afternoon; they just didn't know it. Alex came up for air after swimming across one section, and I said, "Alex, you do know you just swam, right?" Her face lit up, and she said, "I did??! Let me try again." Then of course Michael had to compete and he too swam. So now it's just a matter of confidence before the two of them will be gliding around the deep end free of floaties.
My parents were also over, so we were able to honor my dad on his day. A Father's Day cake provided a delicious mid-afternoon snack. And then it was dinner outside again. Seems as though we'll be living outside a lot now...I've promised the kids breakfast out there tomorrow morning, and they all kept repeating, "I can't wait until tomorrow morning so we can have breakfast outside!" (It doesn't take much, does it??) Hopefully, tomorrow will be another perfect day!