I really shouldn't be posting these pictures as I'm sure there will be an identical post come end of October. But...this was such an event for us today--checking on ups.com for the update, looking out the window for the UPS truck, asking the same question over and over: "When do you think it will come?" Unfortunately, I think we're at the end of our UPS guy's route because he usually swings by toward the end of the day. Today, however, he must not have had many deliveries because he showed up right around 1:30.
The kids were about to DIE with anticipation because I made them finish their school project (a mini-replica of a Viking ship, which would have been much more exciting if it weren't for a box sitting on our doorstep) before we could tear open the box. Finally, we were able to open it up, and I took a quick opportunity to stealthily slip one of Alex's old costumes in for the Princess. I'm glad I thought of that because no sooner had I pulled the boys' costumes out when Audrey peered into the box and said, "Baby?" "Yes, Audrey, you have one in there too. Just wait a minute!"
I do have one thing to admit: we know by now that I'm a bit of a control freak; I may have asserted just a tad of my control into the whole costume decision-making process. We are studying knights in a couple of weeks, and I really wanted the kids to fully experience it. However, with Halloween fast approaching, I didn't want to double-spend on super hero costumes AND knight costumes. So, I coerced...er...convinced them to go with knight costumes (and a princess one for Miss Alex--she didn't take much convincing, though). (For the very technical, I think the boys' costumes are actually crusaders get-ups, but these were the closest thing to knight I could find for the money I wanted to spend.)
Of course it was great fun to try on the costumes. And of course I've already given my speech about how today is just the 9th and we have until the 31st for Halloween, so how many days does that mean we have to take extra special care of these costumes? I'm sure there will be many sword fights in the days to come, and the boys already have plans to wear their helmets to bed and, with their swords and shields, defend themselves from one not-yet-declawed-feline, Sir Stitch.
Miss Alex looks beautiful in her blue flowing princess dress which accents her daddy's eyes wonderfully.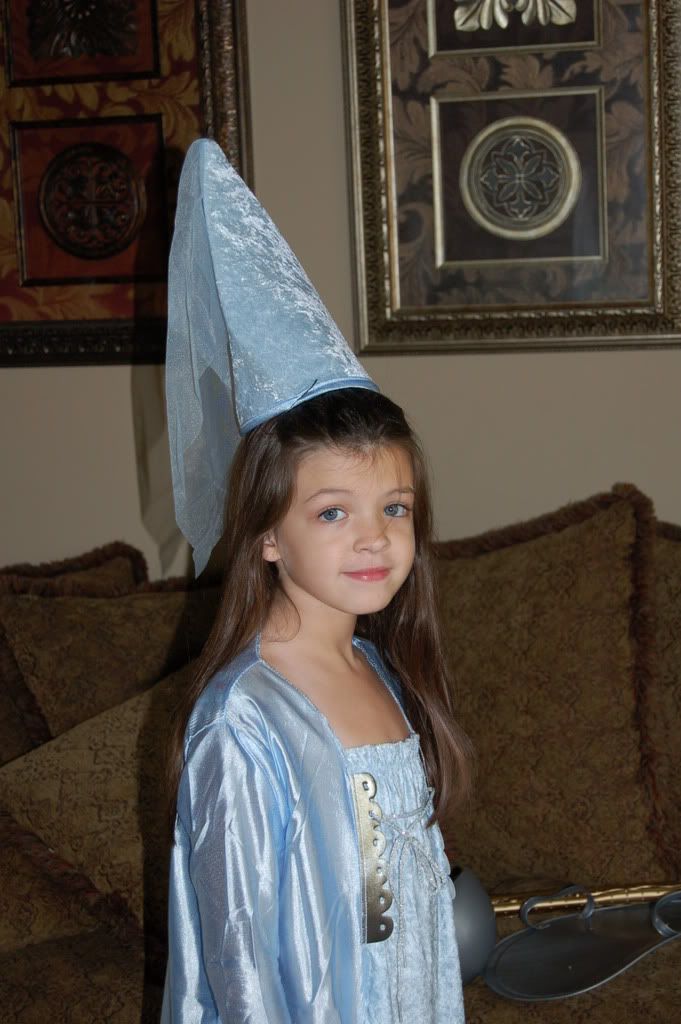 As for the princess, I think living in this family, she often faces the same quandry: To be princess or not to be? Princess or scoundrel? THAT is the question!