I often have a "blog voice" writing in my head. Oftentimes, the Blog Voice even gets intermingled with my Narrator. I know…all these voices in my head…now you have an explanation for my insanity. Seriously, though, my Blog Voice had half-written an entry for today in perfect holiday style. It began something like this:
'Twas the day before our big trip, and all through our home
Everyone was stirring, anticipating the adventure to come.
The suitcases were all packed to the very tip top,
And anxious parents prayed their zippers wouldn't pop.
The children were so excited they were bouncing off the walls;
Mom's unheeded warning of "Calm down!" echoed through the halls.
Obviously, I didn't get very far, and I can attribute this to the crazy, crazy weekend we had coupled with our very hurried preparations for this trip upon which we are embarking tomorrow. So rather than try to impress you with my verse, I will just present a look at some happenings from the last couple of days as well as a few of the events to come. No doubt my family members will likely be the ones to appreciate such a newsy post!
First, some very, very miscellaneous meanderings…
Jacob woke up the other morning with his standard bedhead. I told him it was the work of an elf hairstylist who visits his room every night, globs gel in his hair, and makes it stand up that way. He giggled. (What else can you do when you look like that?)
The Princess is probably the most affectionate of all the children. She is very into giving "tisses" lately. She will request, "Tiss me." "Where do you want your kiss?" I'll ask. "On cheek," she says as she pokes her soft, chubby, totally kissable cheek. I comply. "Now where?" "On nose." "Now where?" "On eyes." "Now where?" She pats her head. "On head." Is there anything sweeter than THAT? I don't think so either!
The cat almost got booted today. Ever since his surgery, he hasn't wanted to use his potty. I've done some disciplining, some training, and he's doing better, but not perfect—and when it comes to using the kitty potty, I insist on perfection. My dear friend from whom we got the kitty and who has offered to kittysit—get this—offered to take the cat and train him while we're gone! Now there's a real friend who will do THAT, don't you think? I know I wouldn't measure up in such a situation!
Meander through our weekend…
We had a busy, busy weekend, but a memorable one and one full of stimulating conversation and quality moments with friends. Saturday night we had two fellow homeschool families over. It's our tradition at dinner parties to feed the children and then send them up to the "theater" for a movie so we grown-ups can finish sentences, eat our food hot, and exchange conversation with someone within at least 5 years of our own age. Prior to our peaceful dinner, however, the kids got to take part in one of the families' annual traditions. Toting cookies, sprinkles, M&Ms, gumdrops, and icing, my friend brought all the fixin's for the kids to assemble a cookie Christmas tree. They had a blast, although I think there was more finger licking than actual assembly going on. The trees dried during dinner for a later decorating.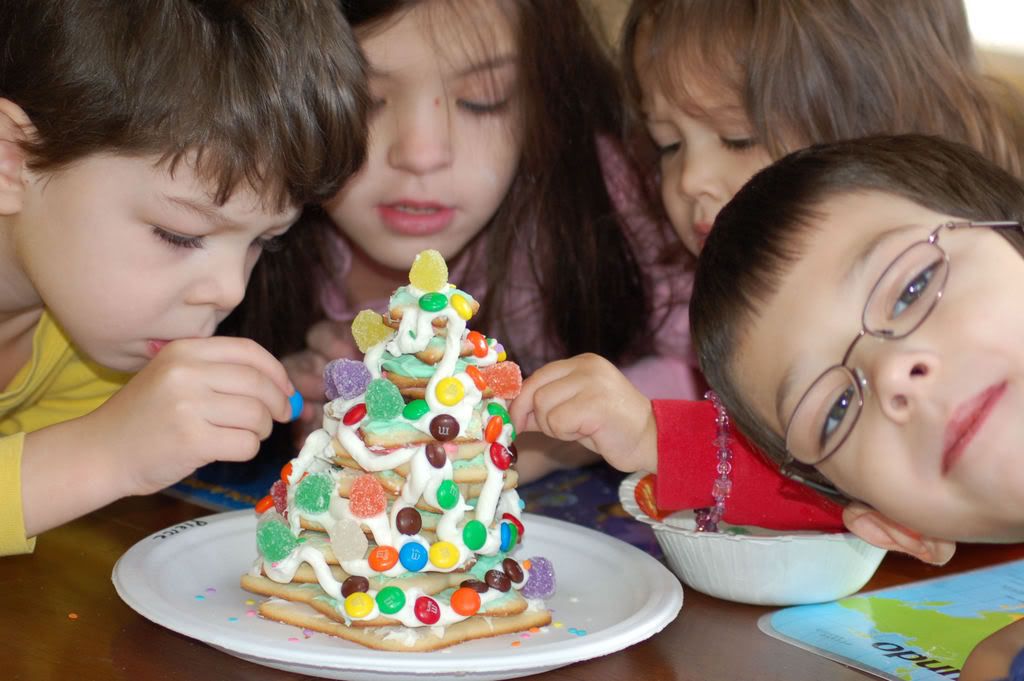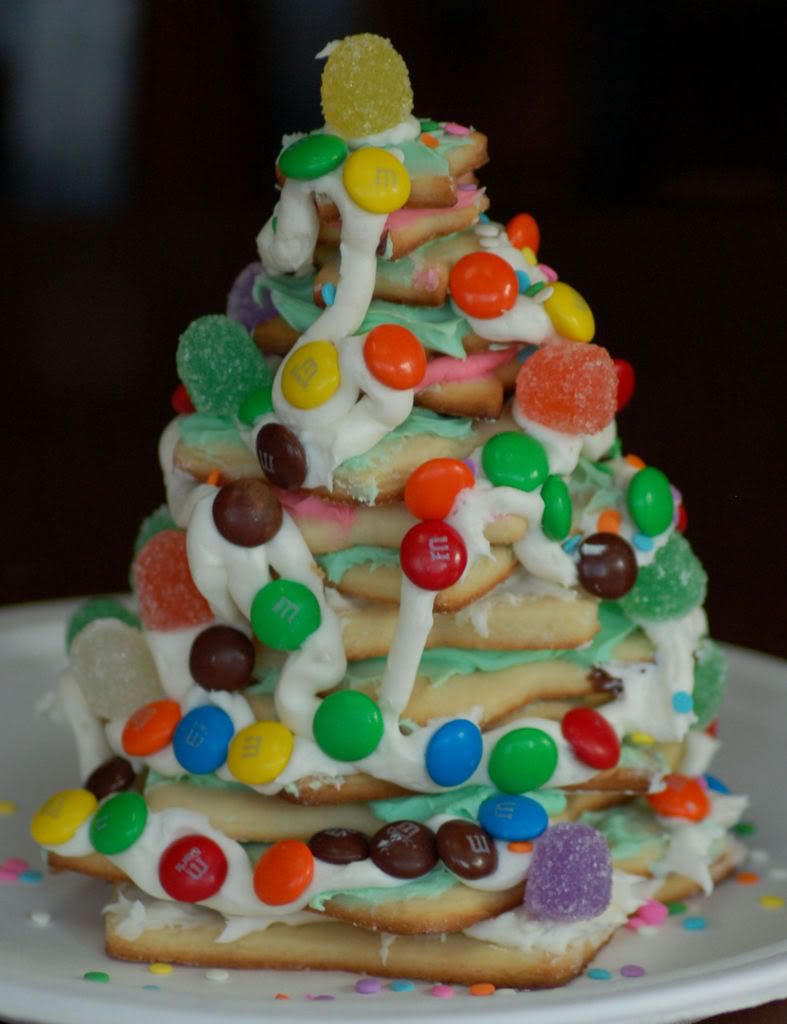 Sunday was a busy day as well with church, choir practice for the two older kids, and then Small Group. We really enjoy our Small Group as all of our personalities mesh so well, and it's always such a fun time of fellowship. Oh, and we do get some Bible study in there as well…not to mention our usual dinner feast. The evening offered more stimulating conversation (with the kids banished to the basement with a babysitter!)
Meander through today…
Today is a day of harried preparation as we get ready to head to Florida tomorrow where we will be until Sunday. We'll be in Orlando until Saturday, then to Miami Saturday night, and then on to The Pearl. We're all excited, although 3 out of my 4 woke up with bad coughs today. What did I expect anyway? So we're loading our car with not only the kitchen sink, but medicine and at least one humidifier as well. Baby never did get potty-trained, but maybe she'll sneak in the pool on the ship at some point anyway!
We'll be in an apartment-style hotel in Orlando while Mark tends to business, so during the day we'll continue with school as usual (isn't mobile homeschooling wonderful?). I'll also have the opportunity to see a dear friend with whom I used to teach as well as spend an evening with a cousin and his family.
So this is just a blog break in between loads of laundry, piles of things to put in suitcases, and cookies to bake. Yes, I realize the cookies aren't necessary, but as a child whenever we went on a trip, we always baked beforehand so we had lots of snacks in the car. Of course that was a different time, a different continent--we couldn't stop at McDonald's or Kroger...and a potty break meant finding the tallest bush--but while I could always just hand the children a bag of goldfish for snacktime, it just isn't the same as homemade cookies on a roadtrip.
After all, occasionally it's important to meander through memories of times gone by!